Ready to book a Treehouse?
Call us between 9 a.m. and 7 p.m. EST daily 828-735-2228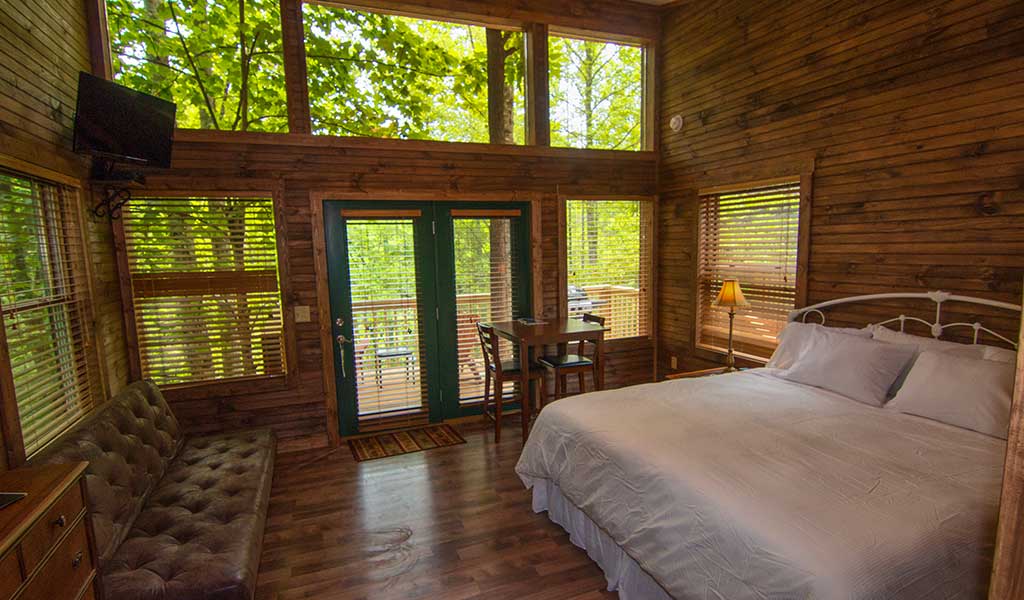 This Treehouse has two trees coming through its deck…a Black Walnut as well as a lovely Tulip Poplar. Situated on the river front, this great get-away is finished inside with dark wood for a "back to nature" feel.
Prepared to be Pampered!
You'll find locally handmade soap from Walnut Creek Farm and handmade body butter from Morgan Hill Essentials in the spacious bathroom.
We even pamper your sports car and motorcycles — secure, paved, protected parking is right under your Treehouse, as well as a hose and washing supplies.
Treehouse Amenities
King memory foam bed with luxury linens.
Table for two
Microwave, mini-refrigerator, coffee maker, hair dryer
Ceiling fan, heat and air conditioning.
Satellite TV, free Wifi.
Resort Amenities
Your treehouse rental includes access to common area with barbecue area, Adirondack chairs, fire pits stocked with firewood and kindling, picnic tables, horse-shoe pit, cornhole, and nature trail to the river with great fishing!
No room to bring your fishing gear? No problem, we're happy to provide some. We'll even lend you walking sticks if you want to hike while you're here!
Tour Unit 4 Black Walnut
Tour Resort