Contact River's Edge Treehouses
Rivers Edge Treehouse Resort
Doug & Laila Mortimer, owners
195 Old US 129, P.O. Box 1372
Telephone 828-735-2228
EMAIL  us directly or fill in the form below:
We respond to your questions by phone and/or email within 24 hours…if you send a request and don't hear from us in that amount of time, please give us a call.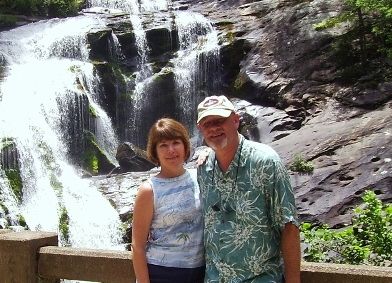 Meet the Owners
Our heritage is in the Graham County, North Carolina area, including some who were early settlers here in the early 1800s.  Laila's great-grandfather was one of the first doctors to serve this area.  When we semi-retired, it was only natural to return to the place we both loved.
Before we moved to the beautiful Smoky Mountains, we both worked in industries that enabled us to travel around the world. We stayed in many different hotels that rated from one star (ugh) to five star luxury. We think we know what hotel guests are looking for.
In Robbinsville, the area's tourism base is largely motorcycle and sports car enthusiasts wanting to experience our world class roads and the natural beauty of this area: the mountains, the lakes and rivers, the gorgeous trees, shrubs and flowers.
We became aware that there is a lack of premium lodging for those who want an up-scale, affordable place to stay while here. We dreamed and planned and finally have developed River's Edge Treehouses, giving us an opportunity to share the beauty of this area ,while providing our guests the first-class amenities they desire, including safe secure parking under each treehouse, king size beds, free WiFi, and satellite TV.
We love this beautiful mountain area and we know you will, too! We want to make your visit very special and unique. We both look forward to meeting and greeting you soon.
Doug & Laila Mortimer